If you identify with any of these 4 "tribes", Endesa's Tempo Happy Tariff is made for you. And even if you don't identify with any of them, as the Tempo Happy can adapt to you. Whatever your habits, you can be happier. You deserve it.
We don't want you to have to alter your lifestyle patterns just to adapt to an electricity tariff. We want to make you happier with a tariff that adapts to the way you are. We may not be able to help you with your work or find you a new car, but at least we can help you to spend less on electricity.
This is why we have created Tempo Happy. This tariff will enable you to use electricity 2 hours per day or 1 day per week at 0 euros. Yes, that's right: during your happy moments the kilowatt/hour will not cost a thing.
You choose! Analyse your habits, check when your consumption is at its highest and let us know!
And don't worry, you can change your times whenever you like without any extra cost. Because, who knows, at the moment you are never at home on Sundays, but tomorrow you may start nesting. Never heard of it? Read on.
These are the four urban tribes that are already enjoying electricity at 0 euros. Which is your tribe?
The nesting couple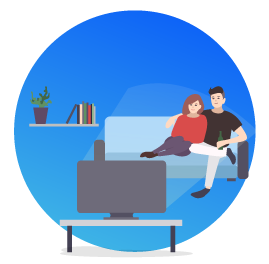 This is the latest trend, which, really, is nothing new. It involves spending as much time as possible at home and not even going out for a loaf of bread or the newspaper (there is sliced bread and the Internet).
Typical young couples without children that work long hours during the week just to pay the mortgage. Saturday is for going out, and Sunday is sacred because it is the nesting day. In the morning they clean the house, do the washing, iron… and then put a cake in the oven for dessert. In the afternoon they put the heating on, throw a blanket on and watch the entire series of "Game of Thrones".
Sunday is obviously their Happy day. It is clearly when they use the most electricity and when it is at its cheapest for them. How cheap? Yes, 0 euros.
Since they are Happy, 17% of the electricity they consum cost them 0 euros.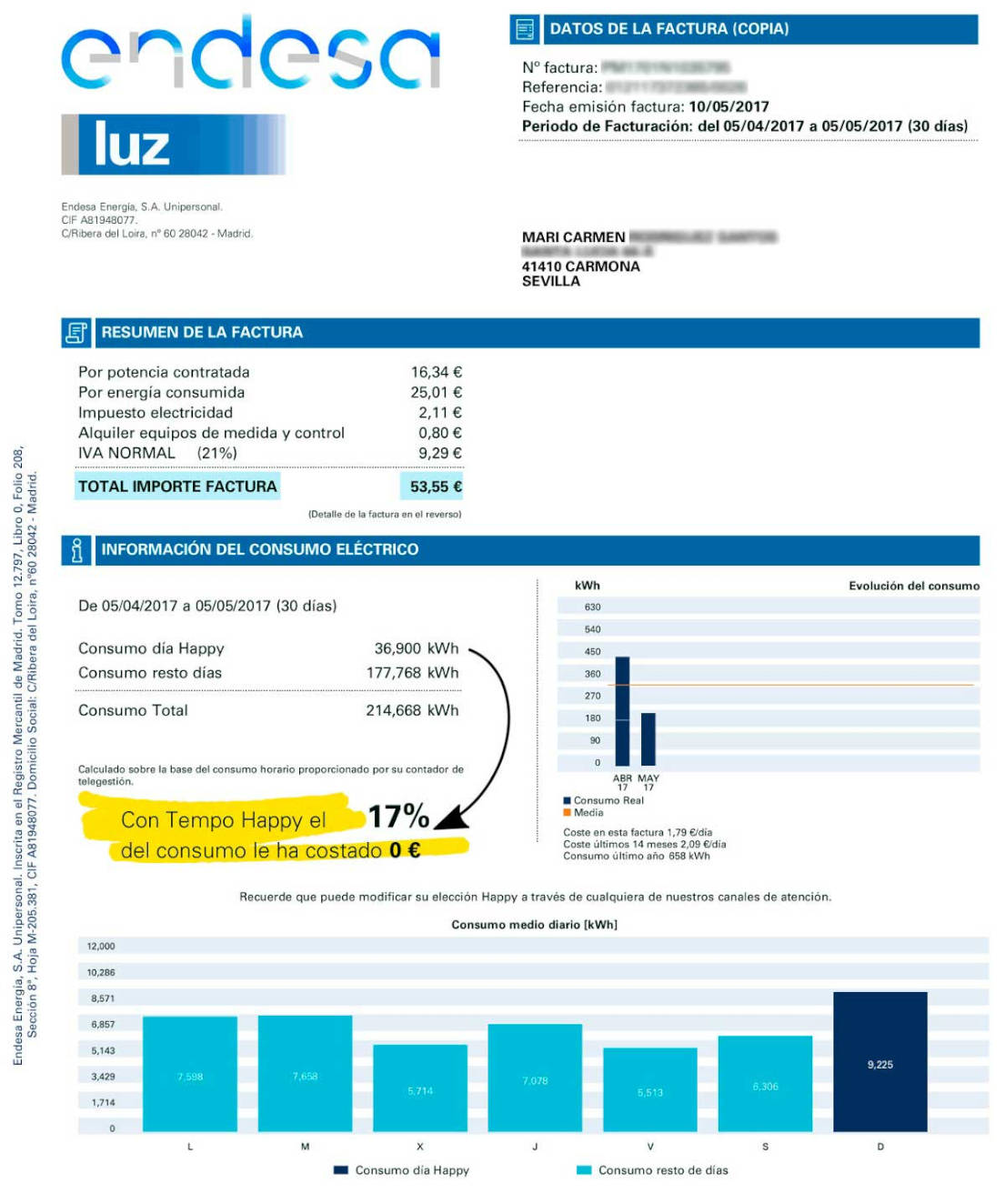 Weekend surfers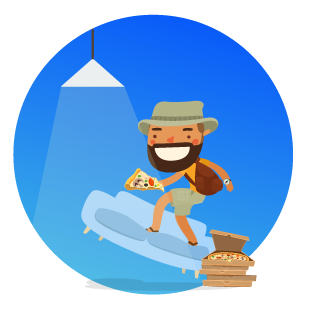 A couple with kids at university. They live in the city but they have a second home at the seaside. Their kids love to surf and go away for weekends with their friends. They sunbathe, practice sports, go to bed late…. Use kWh making pizzas in the oven, using the air conditioning to keep cool and using the washing machine to get that bad smell out of their wetsuits.
Since they have been Happy, the parents don't have to worry about the electricity bill left by their kids and their friends. They have programmed Saturday as their Happy day and the energy used making those pizzas and washing those wetsuits costs 0 euros.
Since they are Happy, 21% of the electricity they consum cost them 0 euros.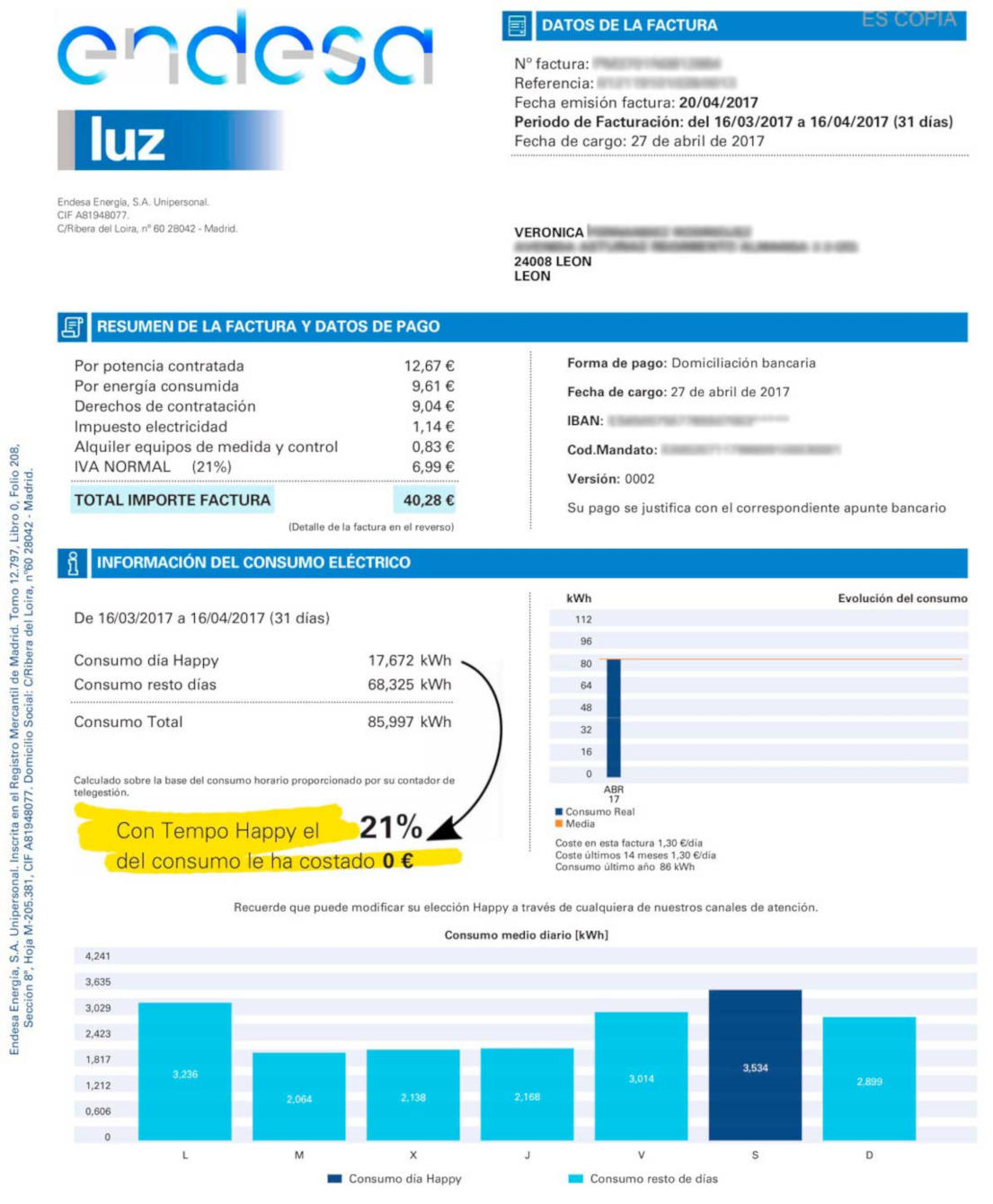 Neo-parents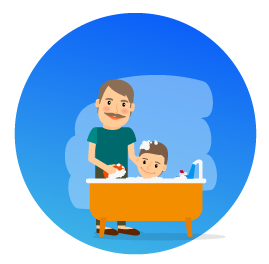 Couples with young children living intense days: they sleep very little, get the breakfast ready, take the kids to school, work and race back to collect them, bathe them, prepare the dinner and put them to bed... and of course read them a bedtime story.
They are exhausted and have too many expenses. This is why they have chosen from 19:00 to 21:00 as their daily Happy moments. This is the critical part of the day, when the entire family is at home and there is so much to be done: washing the children's dirty clothes, charging mobile phones and tablets so they can watch their cartoons, making the dinner for everyone, preparing a hot bath with the heating on so it is not cold when they get out…
After 21:00, once the children are in bed, this is the time to relax and chat. Or to drop onto the sofa before beginning another hard day's work.
Since they are Happy, 45% of the electricity they consum cost them 0 euros.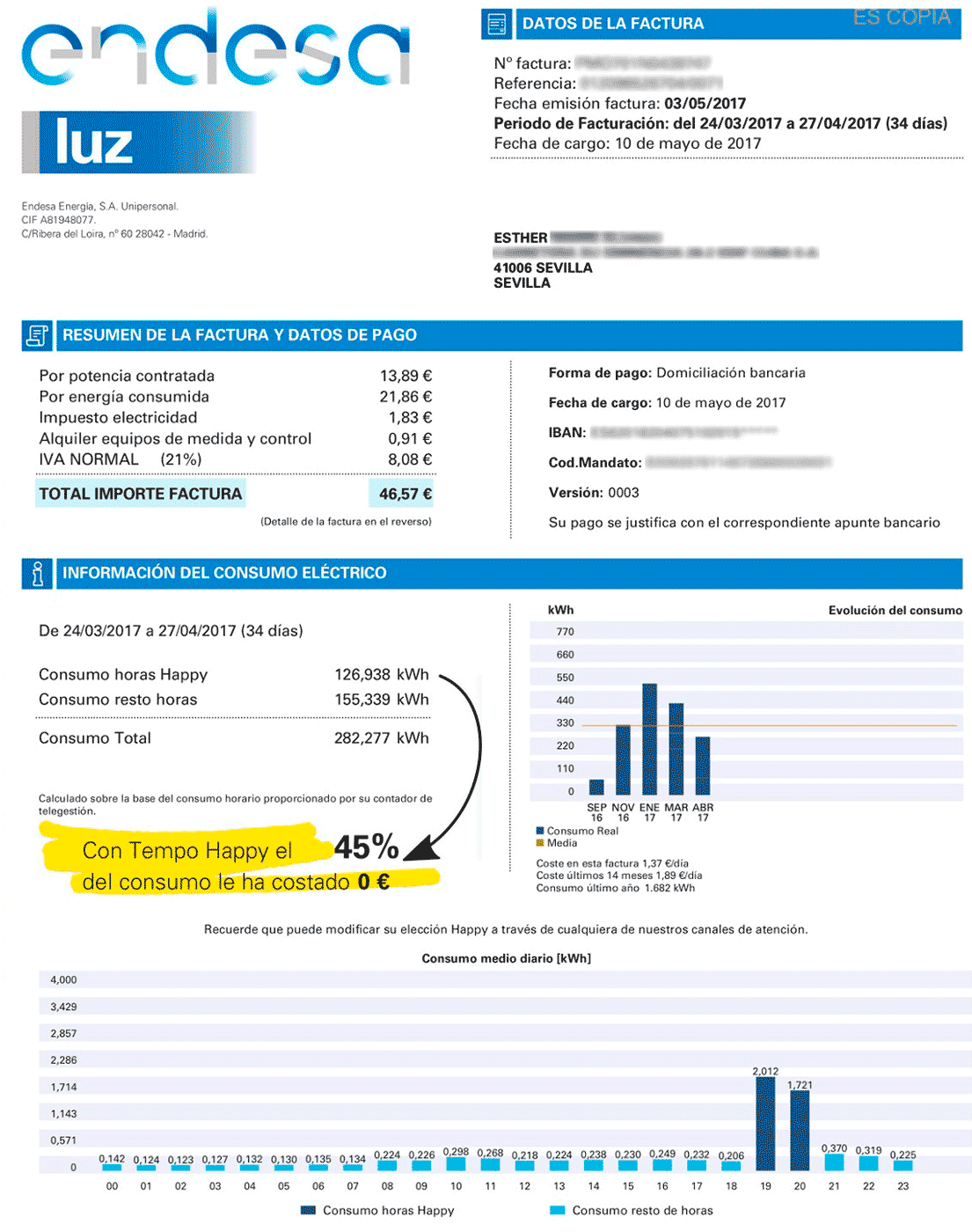 The indie culture vulture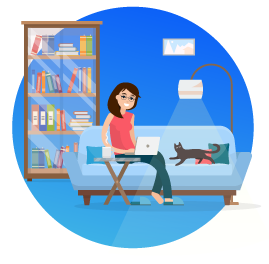 They live alone but have a cat. The perfect animal for their weekly routine, as they are hardly ever at home. They get up very early to go to work. They like to eat out but rarely go to restaurants. They take their own dishes in containers, preferably natural and organic meals. At the end of the working day they always meet up with friends to go to a cultural event.
There are not enough hours in the day for them. They get home late, just in time to have a bite to eat and go to sleep. This is why they have chosen 22:00 to 24:00 as their daily Happy moments. It is practically the only time they are at home.
Since they are Happy, 21% of the electricity they consum cost them 0 euros.
Be Happy
Now do you believe it? Do as they have and change to Endesa's Tempo Happy. You could save up to 140 euros per year. And you don't have to worry about the other hours. The Tempo Happy tariff is included in the fixed price category. In other words, you will not have any surprises outside of your Happy hours, since you will always pay the same price for each kWh consumed.
Remember to choose:
Either 2 consecutive hours per day, every day of the week.
Or 1 day of the week.
The price during other hours will remain stable, with no surprises.