You decide
how much and when to save
5% discount on your bill indefinitely.(1)

Up to 50% additional discount depending on your consumption habits.(2)

2% additional discount on consumption during the first year for activating the e-billing service.
CONTRACT

servicio
See conditions
Find out the advantages of this tariff.
Enjoying additional discounts with the Tempo Tariff All Benefits is as simple as using electricity during these periods.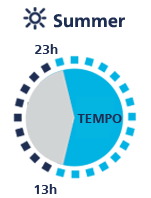 Tempo hours: 11:00p.m. to 1:00p.m.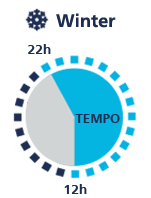 Tempo hours: 10:00 p.m. to 12:00 p.m.
Tempo hours: If you spend more than half of your energy consumption during the Tempo hours, you can get additional discounts.
Remaining hours: During the remaining hours, you will pay no surcharge and the price of the Tempo rate remains the same.
With the Tempo Tariff All Benefits you will benefit from a 5% discount on the power term and on your electricity consumption indefinitely. These discounts are applied to Endesa's reference prices.
If you contract it together with a gas contract or with an electricity maintenance service, we will offer you an additional un 5% discount for 1 year on the power term and on the power unit.
Furthermore, if more than half your consumption is during Tempo hours, for every 1% extra, you will enjoy an additional 1% discount on the power unit and this discount will be calculated independently for each bill and indefinitely while you remain with Endesa.
As an example, if on your last bill you consumed 58% of your electricity during the Tempo period, that 8% over the 50% of the total consumptions translates into an additional 8% discount.
These periods include the hours between 22:00 h and 12:00 h in winter and 23:00 h and 13:00 h in summer.
TEMPO TARIFF ALL BENEFITS TIME PERIODS.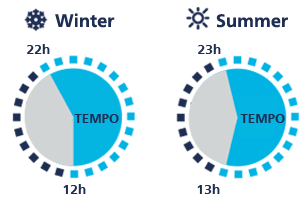 Half the electricity in an average household is normally consumed during Tempo hours. Therefore you may already be consuming more than 50% of your electricity during these hours and can therefore benefit from an additional % discount without changing your consumption patterns.
But furthermore, with a few small changes to consume more during these hours, you will be able to benefit from even greater discounts on your entire consumption.
Below are few useful tips for you: