A simple and competitive rate that suits your needs!
Indefinite 30% discount on your electricity consumption.

4% additional discount for 12 months on your energy term.

Rate adapted to supplies with a maximum power output contracted above 15 kW (Access Rate 3.0.A).
See conditions
Discover the advantages to Preferential Tariff
Savings

Immediate savings from the first bill and month-to-month.

Discount

Indefinite discount on your electricity consumption.

Easy

Easy to contract: without costs, changes to your installation or supply cut-offs.
Personalised service
Endesa offers your company excellent specialised service. Send us your details and we will contact you.
REQUEST CONTACT
At Endesa we have designed the Preferent rate to give you solutions with which you will obtain notable savings on your energy bill. We offer you a competitive rate that adapts to your needs.
| Preferent: > 15 ≤ 30 kW | On-Peak | Mid-Peak | Off-peak |
| --- | --- | --- | --- |
| Power charge | 41,95075 €/kW and year | 25,17044 €/kW and year | 16,78029 €/kW and year |
| Energy charge | 0,192699 €/kWh | 0,172904 €/kWh | 0,129289 €/kWh |
| Energy charge with 34% discount | 0,127181 €/kWh | 0,114117 €/kWh | 0,085331 €/kWh |
| Preferent: > 30 ≤ 50 kW | On-Peak | Mid-Peak | Off-peak |
| --- | --- | --- | --- |
| Power charge | 41,95075 €/kW and year | 25,17044 €/kW and year | 16,78029 €/kW and year |
| Energy charge | 0,188567 €/kWh | 0,168758 €/kWh | 0,125166 €/kWh |
| Energy charge with 34% discount | 0,124454 €/kWh | 0,111380 €/kWh | 0,082610 €/kWh |
| Preferent: > 50 ≤ 100 kW | On-Peak | Mid-Peak | Off-peak |
| --- | --- | --- | --- |
| Power charge | 41,95075 €/kW and year | 25,17044 €/kW and year | 16,78029 €/kW and year |
| Energy charge | 0,185322 €/kWh | 0,165525 €/kWh | 0,121922 €/kWh |
| Energy charge with 34% discount | 0,122313 €/kWh | 0,109247 €/kWh | 0,080469 €/kWh |
| Preferent: > 100 ≤ 250 kW | On-Peak | Mid-Peak | Off-peak |
| --- | --- | --- | --- |
| Power charge | 41,95075 €/kW and year | 25,17044 €/kW and year | 16,78029 €/kW kW and year |
| Energy charge | 0,183892 €/kWh | 0,164085 €/kWh | 0,120491 €/kWh |
| Energy charge with 34% discount | 0,121369 €/kWh | 0,108296 €/kWh | 0,079524 €/kWh |
Conditions valid through 15/10/2019
Ideal for businesses whose consumption activity can adapt to the following schedules
WINTER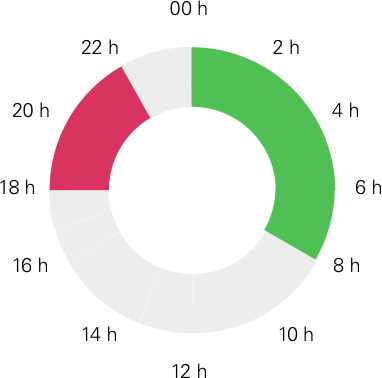 Mid-peak

:00:01h a 8:00h

On-Peak

:18:01h a 22:00h

Periodo llano

:8:01h a 18:00h y 22:01h a 00h
SUMMER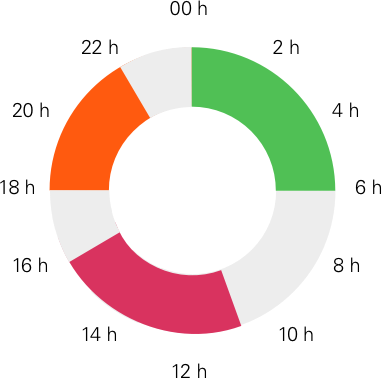 Mid-peak

:00:01h a 6:00h

On-Peak (Peninsula and Canary Islands)

:11:01h a 16:00h

On-Peak (Balearic Islands)

:18:01h a 22:00h

Off-peak

:6:01h a 11:00h y 16:01 a 18:00 y 22:01h a 00h