Tips for recycling glass and crystal glass

Content offered by
They seem the same but they are not. Glass and crystal glass are different materials and this needs to be taken into account when recycling. Can the two go inside the green container? The answer is no. We will explain why and give you a few tips to differentiate them..
You have probably asked yourself at some time or another, what you should do with a broken bottle. Green or orange container? It is not such a trivial question as it may seem at first, given that the composition is different and they cannot be welded in the same ovens since they require different temperatures.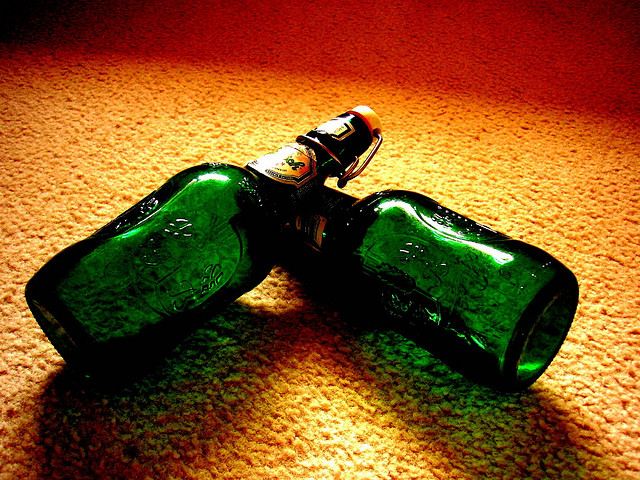 As Ecovidrio indicates, "the term crystal glass is often used to mean glass and this is not scientifically correct". Glass is an inorganic, hard, fragile, transparent and formless ceramic material. It is made up of silica sand, sodium carbonate and limestone and it is obtained by melting these elements at around 1,500ºC. On the other hand, crystal glass contains lead oxide, which gives it specific characteristics such as the sound and shine.
The main difference between crystal glass and glass is that thedifferent wine glasses and other types of crystal glass elements have lead oxide, which cannot be melted in the same ovens as those used to for glass recipients, since the temperature is different. Ecovidrio recommends, "In view of the foregoing and given that the compositions are not the same, we recommend only placing glass in the glass container".
We now have the scientific explanation but, what should we deposit in each container? Here are a few examples:
Green container
This is only for glass, so do not forget to remove the plastic tops and caps (these two go in the yellow container) or corks from wine bottles. Here we can deposit:
Wine, beer, juice, soft drink and liqueur bottles…
Food jars used for pickles, jams, olives, etc.
Perfume or cologne bottles
Spray or roll-on deodorants
Cosmetic containers
Grey and orange container
We normally think these are only used for organic waste but this is also where some crystal glass elements should be deposited, providing they are not dangerous. Here are a few examples:
Crystal glass from dinnerware sets: glasses, etc.
Flat broken crystal panes, such as from windows or mirrors (providing they are not dangerous)
Conventional bulbs
Waste disposal points
There are some items that should be taken to a waste disposal point, where they will be collected and processed correctly. This is what you should take there:
Flat panes of glass, such as windows and mirrors, if they are dangerous
Fluorescent tubes
Low consumption bulbs
Thermometers
Now you know where you have to deposit all your glass and crystal glass items. And if you have any queries, you can check the Twenergy' recycling guide. What are you waiting for?
More articles in

-The Endesa energy efficiency website-
What do the recycling symbols mean?
Before recycling, first we need to know what the recycling symbols mean. These tell us what the materials are made of and where waste should be deposited. Read the full article at twenergy.com
Recycling guide
Recycling will enable us to elongate the lifecycle of materials. Our guide explains where you should deposit each type of waste. Read the full article at twenergy.com
Recycling plastics
Recycling plastic is more complicated that it may seem. There are different recycling methods and uses for recycled plastic which are very different. Read the full article at twenergy.com