First off, you need to know when to apply for a new connection, which you'll have to do if:
You move into a new bui that has never had a gas or electricity connection.
You move into a second-hand property that was connected in the past but has had the supply cut off.
It's really important not to confuse applying for a new connection with switching supplier. New connections are only for when there is no supply already.
Switching supplier just involves moving from one electricity company to another; it's quick and you won't ever be left without gas or electricity.
If your gas or electricity is already connected, it makes no sense to apply for a new connection; however, you can change tariff or company free of charge.
In this section, we explain how to switch suppliers.
If you're already with Endesa and just want to change tariff, check out our electricity and gas tariffs, or our electricity + gas tariff.
What documentation do you have to provide?
During this process, we'll ask you for the following documentation:
CUPS number: Here, we explain what the CUPS number is and where to find it.
Address you want connected for the first time.
Electricity Installation Certificate: Here, we explain what this is and what it's for.
Contract holder, i.e., who's going to sign the contract.
The supply capacity you want to contract: Here, we set out everything there is to know about electricity supply capacity.
IBAN code of the bank account you want to use to pay your bills: you can always change this online.
How is a new supply connected?
If your house or business premises does not already have a gas or electricity connection, you'll need to contact your distributor.
The distributor is responsible for connecting your home to the network. You can't choose a distributor because they are assigned by area. You can, however, choose your supplier: the company you have a contract with and which sends you bills.
A map is provided below showing you who your electricity distributor is by area.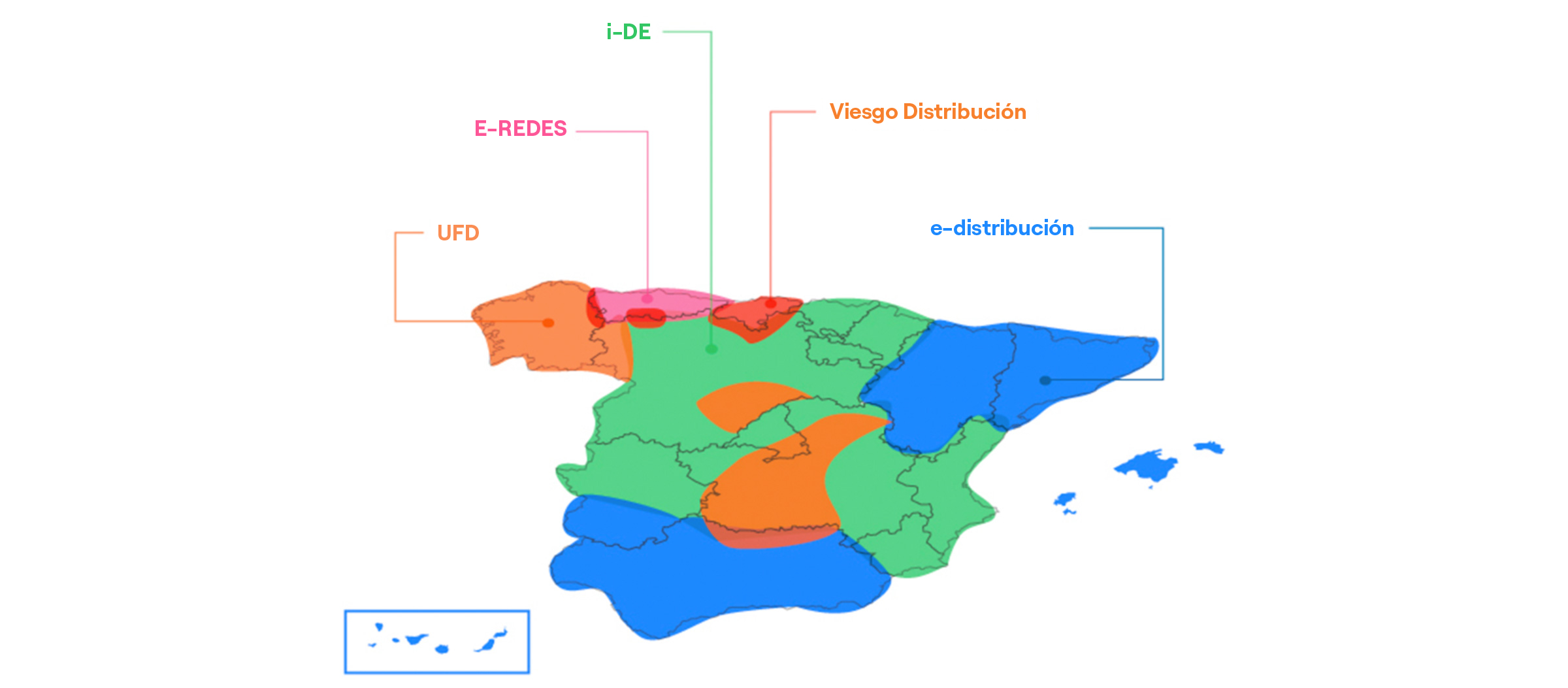 Although there is overlap, especially in border areas, the electricity distribution companies cover the following areas:
Endesa: Catalonia, Aragón, Andalusia, Balearic Islands, Canary Islands and the province of Badajoz.
Iberdrola: Basque Country, Navarre, La Rioja, Castile and León except the province of Segovia and the west of province of León, Madrid except the south of the Autonomous Community, the province of Cáceres, west of the province of Toledo, north of the province of Guadalajara, the Valencian Community and Murcia.
Unión Fenosa: Galicia, the west of the province of León, the province of Segovia, the south of the Autonomous Community of Madrid, the province of Ciudad Real, the province of Cuenca, most of the province of Toledo and the south of the province of Guadalajara.
EDP/HC: Asturias.
Viesgo: Cantabria and some parts of southern and western Asturias.
A technician from your distributor will visit your home or business premises to connect the supply. In the case of electricity, he/she will install a supply capacity controller, which regulates the contracted capacity.
While your application is being processed, the simplest thing is to directly request the tariff best suited to your needs.
How much does it cost to get your gas or electricity supply connected?
You'll have to pay a number of charges to get your gas or electricity connected. These are the same all over Spain, whoever your distributor is.
As well as the following charges, you may have to pay others for installing equipment, security deposits and taxes. In all cases, these charges go to the distributor, but are paid in your first bill: