With electronic billing you do not lose anything, but you gain a lot.
You do not lose anything because you will keep having your paper invoice whenever you want: you can print it from your Private Area.
And you win a lot because, when making the digital jump with Endesa, you access a collection of exclusive advantages
Faster: what you now receive on paper will arrive a week earlier by email. The bank will not have charged you yet, but you'll know everything.

More information: in the same email, without even having to click, you'll have the details of your bill. In your private area, you'll benefit from information you've never had before. And if you want to continue checking your bill in that way that you always have, you can print it whenever you want.

More control: you will know your consumption instantly – how much you are spending at any time – and you can set up alerts that will warn you when you exceed a certain limit of euros or kWh.

More savings: by digitising your bill and registering at endesaclientes.com you will get access to personalised saving tools. Based on your consumption data, we will help you to reduce the bill.

Enviromentally friendly: a tree produces 8,000 sheets of paper. What could we achieve if millions of people stopped receiving their bills in paper form?

Also on your mobile/tablet: all the advantages and all the management tools are available from your smartphone/tablet.
HOW TO GO DIGITAL IN 2 STEPS
1. The first thing is to be registered and logged in. If you are not yet, register.
2. Once you are logged in, go to your Customer Area and choose "Activate the electronic bill" (if this button does not appear, your invoice is already digital).
Activa tu factura electrónica de Endesa (EN)
Te beneficiará de un ahorro importante de tiempo (EN)
ACTIVAR (EN)
Know the Adventages of Electronic Billing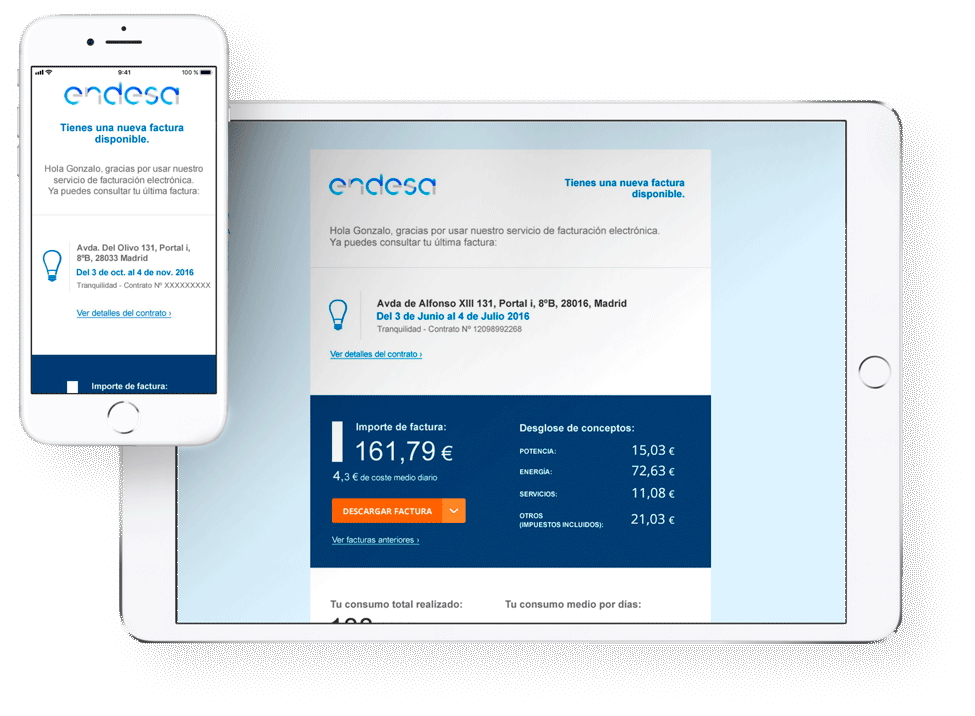 Activating the digital bill is not a question of take it or leave it. It's true that you will stop receiving your paper bills, but you can change your mind and return to the traditional billat any time. Just one click from your private area and you will have your bills back on paper, without any penalty.
When you sign up for an Endesa rate, check the conditions: at times (for example, with the One rate) it is necessary to have an electronic bill to apply the benefits of the rate.
Yes. In case of an incident, or if you need to complain, the digital bill has the same validity as the paper bill or more(since it provides more information).
The Endesa digital bill is completely secure thanks to the digital signature digital signature, which guarantees the authenticity of the issuer and the integrity of its content.
Endesa has an electronic certificate from the Notarial Certification Agency that allows us to incorporate an advanced electronic signature in all the bills
Forget paperwork. You will know more about your bill and you will know it sooner.
Pásate a la factura digital (EN)
Te beneficiarás de un ahorro importante de tiempo (EN)
ACTIVAR (EN)