Vehicular
Natural Gas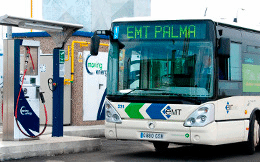 Vehicular Natural Gas (VNG) is a automotive fuel that substitutes gasoline in internal combustion spark-ignition motors .
It is also a partial substitute for diesel in compression ignition engines.
Its efficient combustion prolongs the life of the motor, lowers the frequency of oil changes and increases the useful life of lubricants, spark plugs, oil and air filters.
Advantages For Your Business
Direct fuel savings

, since based upon a per litre equivalence, natural gas costs on average

50% less than gasoline

.

Savings in vehicle maintenance

, since the life of certain components such as spark plugs, the exhaust system, the carburettor and lubricants is increased.

Clean combustion

, since neither ash nor solid particles are emitted into the atmosphere.

Contributes to reduction of the greenhouse effect and acid rain

. VNG creates a much reduced emission of nitrogen oxide (NOx), carbon monoxide (CO), carbon dioxide (CO2) and reactive hydrocarbons, and it generates virtually no sulphur dioxide (SO2).

Safety

. The combustion systems of VNG vehicles are "sealed", preventing leaks or losses due to evaporation. Even if a leak occurs in the system of a VNG vehicle, the natural gas will dissipate into the atmosphere because it is lighter than the air.
Applications
Vehicular Natural Gas is a profitable reality for transportation companies (trucks and buses), taxi fleets, urban transport businesses, leasing companies, business fleets, and delivery services, among others.
Types
Compressed Natural Gas (CNG)

CNG is essentially natural gas stored at high pressure, normally between 200 and 250 bar, according to each country's regulations. Due to its environmental advantages, it tends to be used particularly in cities with high pollution levels. It is used above all in buses, commercial vehicles and individual public transportation (taxis). Vehicles adapted in the factory to consume CNG are general dual system, that is to say, they run on both CNG and diesel.

Liquefied Natural Gas (LNG)

. LNG is natural gas that has been processed to be transported in liquid form. Due to its great autonomy, it tends to be used in trucks.
Key in hand service
Personalised Consultation.

We study the particular situation of your installation and design a optimal project, keeping in mind technical and economic conditions.

Project

. We take on the comprehensive installation engineering project.

Execution

. We carry out the purchase of equipment and materials, as well as project execution.

Legalisation

. We process the licenses necessary to start up the installation.

Start Up

. We carry out formal delivery of the installation and of all related technical and legal documentation. We also take responsibility for training personnel.
If you want more information, get in touch with your Personal Adviser or call customer service at 902 527 887.