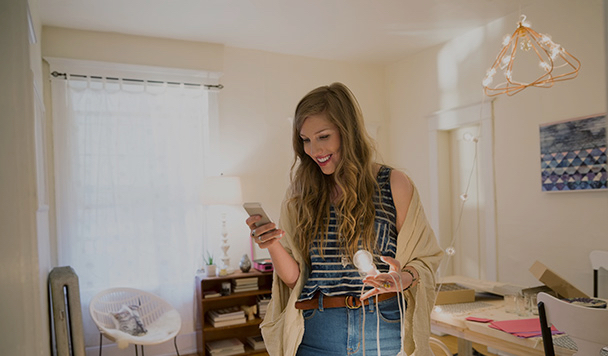 Discover the advantages of One Luz Nocturna
100% Online

The simplest nocturnal tariff, 100% online.

Endesa's best online price

Fixed prices, no surprises.

No minimum term contract

Leave whenever you wish.
The One Luz Nocturna Tariff is a new way of understanding your energy contract, where you will have two prices for energy, one for each period (peak and low) and a single price for the power, you will be able to do everything you need online. You will always enjoy a competitive price and not only during the first year. We are offering you Endesa's best online price.
One Luz Nocturna is a 100% online tariff, which will enable you to carry out all your processes in an easy and simple manner, 24 hours per day, in the "Mi Endesa" section on the online office or by downloading our mobile application.
You can simply sign up for what you need, without having to subscribe to additional services but with the possibility of doing so if you wish.
There is no minimum commitment period.
You will receive an email indicating the date and the link via which you will be able to access your electronic bill as soon as it is available.
A simple, easy and cost-free way of contracting the service and without any supply interruptions.
This is a tariff for ALL customers, both new and existing customers.
(*) As long s the customer has the One Luz Nocturna contract and uses the online channels.
You will enjoy Endesa's best online price.
You will be able to carry out all your processes entirely online.
No minimum commitment period.
The One Tariff is valid for supplies with 2.0DHA or 2.1DHA access tariffs. They are also called time restriction tariffs.
It is a tariff in which the price of electricity fluctuates according to the time in which it is consumed. The aim of this is to avoid peaks in electricity demand, benefiting users who consume electricity in periods of low demand, when production and distribution of electricity is cheaper, with a lower price.
In the case in which the user can consume the majority of their electricity in periods of low demand (in the morning and at night), they can benefit from a significant discount on the price of electricity. In contrast, they will be charged for their consumption during periods of high electricity demand, which they must take into account so as not to end up paying more.
To be able to receive time restriction tariffs, customers must have a meter that allows consumption in the different time periods to be differentiated.
The low demand period is considered to be the hours in which the price is cheaper, whereas the peak period includes the period in which the price of energy is more expensive.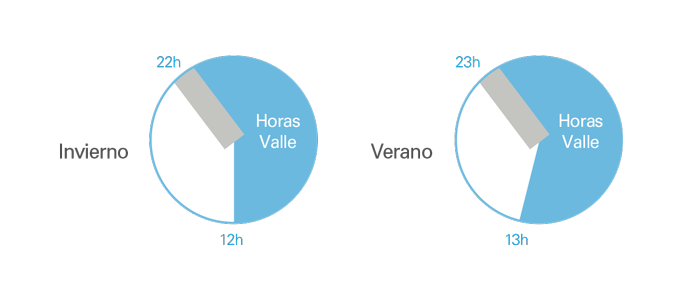 | | | | | |
| --- | --- | --- | --- | --- |
| Invierno – Winter | | Horas valle – Hours of low use | | Verano – Summer |
To be able to sign up for this tariff you must have a 2.0DHA or 2.1DHA access tariff which requires a smart meter that can differentiate peak and low periods. If you have a remote smart meter integrated into your system, you will just have to reprogram it. If you have an analogue meter but which differentiates periods (with time restriction) you do not need to do anything, and if you have an analogue meter that does not differentiate time periods, you will need to change it for a new one.
These meter adjustments (change or reprogramming) have an associated cost of €9.04 + taxes, however, Endesa will carry out the entire process and assume this cost, provided you are signing up for the One Electricity modality.
You don't have to worry about anything, we make all the necessary arrangements and the meter is changed or reprogrammed by your distributor at Endesa's request.
The change of access tariff costs €9.04+VAT (+IGIC in the Canary Islands). This cost is officially regulated, this is called "Coupling Rights". You do not have to pay anything to the technician who comes to make the change, the cost will be factored into your electricity bill. It is worthwhile changing as this cost is more than made up for by the savings you make with the tariff.
If the meter is old, a technician will come to you home/business within one or two weeks to install a new meter, or depending on the model, to reprogram it. In case of a change the technician will inform you because they will need to shut off the electricity of several minutes (approx 5) while they remove the old meter and install the new one. If the meter is a new one (smart meter) and is already connected, the change will be made remotely and nobody will come to your home to make the change. The change will be made within one or two weeks.
If the meter is old you will see that there is now a more modern device, with a digital screen. If the meter was already a digital one you will see data on the screen that changes. You must look at the code that appears: if 1.18.1 appears followed by 1.18.2 it means that the tariff is now active for the two periods. 1.18.1 corresponds to the reading from peak hours and 1.18.2 corresponds to hours of low use.
In some distributors 1.18.3 may appear instead of 1.18.2 for low consumption, but the most important thing is for two 1.18.x codes to appear)
You can change to the tariff that you want as the One Tariff has no minimum commitment period.
You can do so. The new power output must be standardised for your voltage. There is no additional cost, the same cost for coupling rights is the same for changing tariff, meter and power.
You can do so. The new power output must be standardised for your voltage. In this case there is an additional cost for contracting rights. We can give you an estimate but your distributor will provide you with the real costs. This cost will be factored into your electricity bill with Endesa. The change in power will be made simultaneously to the rest of the changes made:
Extension rights: 17.374714 €/kW
Access rights: 19.703137 €/kW
If your statement or CIE (electrical installation certificate) indicates that the maximum power that your home admits is lower that what you want to sign-up for, or if it is more than 20 years old, you must talk to your installer for a new statement or CIE. Some distributors review the installations themselves, in this case they will charge supervision rights. €101.52.
Deposit: Estimated monthly consumption.
These costs are only paid once, when increasing the power.
If your current power is not standardised according to the new regulation, you must reduce it or increase it until it coincides with the standard. Only powers that correspond to the following are allowed:
Single-phase 230V
Three-phase 3x230/400V
Three-phase 3x133/230V (old but still exist)
Signing-up for the Endesa One Tariff is very easy. You can start your signing-up process from our catalogue of products, through campaigns or promotions, from the product comparison, or from your "Customer Area".
Your online sign-up in 3 steps:
Find out about the products and offers that we have, and choose the one that best fits your needs.
Check the general and particular conditions of signing-up.
Access and then fill in the fields of the corresponding online signing-up form.
We will explain the signing-up process step by step:
"Your details": let us get to know you in order to offer you the best possible service. Provide us with your personal details and correspondence address.
If you are already an Endesa customer, and if you wish to, we can recover your details. This way the online signing-up process will be easier.
"Your supply" in this step you should let us know:
Which is your reseller company.
Your CUPS number or the supply point address.
If you are not the title holder of the contract, it is not a problem, when signing-up we will change the title holder.
Your power: select the power that best fits your needs. If you wish, we will provide you with our power calculator.
Your order summary: you can view a summary of the products you are signing-up for.
Your payment details: add the bank account from which you wish to pay your bills. If we do not have the bank account you give on record, we will attach a direct debit order.
Your documentation: We will inform you if you need to attach the Energy Efficiency Certificate (CIE). You will only need to send this for power increases that exceed the maximum authorised power (PMA, in Andalusia is 1.5 PMA) increases for CIE that are over 20 years old and title holder changes with CIE that are over 20 years old. If you do not have the required documentation available straight away, you can send it to us by email or ordinary post: recepcioncie@endesa.es
Your confirmation: all of the details that you provided us with will be shown. You can follow your signing-up process via Mi Endesa.
Once you have signed-up, you will be able to consult your request in detail, we will inform you of the contract number and we will send you an email to the address you have provided from which you can download the general and specific conditions that you have previously accepted.
By signing-up online the electronic billing service is automatically activated, and you will begin to enjoy the benefits. If you would like to find out more, click on electronic billing.
The price of my One Tariff contract will be able to be updated on the 1st of January after signing-up with the real CPI value (latest general interannual Consumer Price Index officially published at the time of the update), as well as through fluctuations that the current regulated components undergo regarding gas supplies, as well as with possible new changes that can be approved.
Should there be any modifications in the price of your contract, either an increase or a decrease, they will be transmitted to the customer. This type of modification is regulated and is completely out of Endesa's control, as it is also applied across the whole country and to all companies.
Additionally, it is possible to review the price one year after signing-up. This will happen in either April or October each year. Should there be any changes we will inform you one month in advance. Remember that you can at any time terminate the contract, sign-up for another Endesa tariff or a tariff from another company.
This is a part of the price that you pay for the contracted power or fixed term and for consumption on your electricity and gas bill. This amount mainly goes to the maintenance of the infrastructure that allows the electricity and the gas to reach your home from its source.
This part of the price is set by the government and it is the same for all companies across the whole country.
They are normally updated by being published in the Spanish State Gazette (BOE) once a year, although on occasion this could happen at other times.
The rental prices of the measuring and control equipment (meter) and the taxes on electricity, hydrocarbons, VAT, IGIC (Canary Islands) etc. are also regulated.
When a change in any of the regulated components occurs, the company normally transmits this to the customer, whether it is an increase or a decrease.
No. You can choose the best offer for you at any time, and if you are not convinced, you can change it whenever you want. With the Endesa One Tariffs there is no minimum commitment period.
If you have a different tariff to the One Tariff, you can change to the One Tariff without any problems. However, if you already have the One Tariff, you cannot leave to sign-up for it again.
The One Tariff has no minimum commitment, you can leave whenever you want, at no cost. Even so, the One Tariff contract has a duration of one year, and is automatically renewable.
You can combine your ONE Tariff with other products or services according to your needs. If you are interested in the services that we offer, you can consult them via the following links:
Once you have completed the online sign-up form and your request has been processed, the activation of your contract will take approximately 3 weeks (if you were already with Endesa Energía the change will be much quicker).
Once the contract with Endesa has been activated you will receive you last bill with your previous company (if you were already with Endesa it will be the last bill with your previous tariff). You will receive your first bill once the first billing period with Endesa has passed.
Normally, you will receive your energy bill every two months based on real readings, that is to say you will be billed based on your energy consumption on the real reading of your supply meter.
Note: If the technician cannot access your meter the reading must be estimated. This normally happens if the meter is inside the house and nobody is home. If you want, you can provide the reading yourself via our website. This is another one of the facilities that we offer you with the One Tariff.