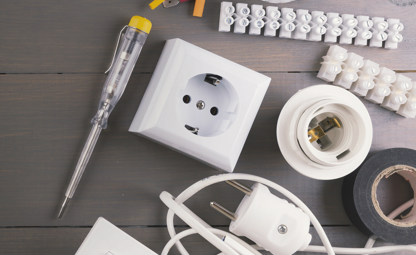 Electricity contract with Endesa's best on-line price
Electrical repairs with a discount of 50% during the first year.

Price of the energy: €0,119893 per kWh.

Price of the OKLuz Assist service:€ 2,53€ per mes during the first year.
CONTRACT

servicio
See conditions
Best light offer and electrical repairs for hiring online. We tell you the advantages.
Electricity

All the administration is 100% online, so you can check your bills, your contracts and your other procedures both on the web and on our App.

Electrical repairs

Unlimited repairs for your electrical installations and one repair of a small electrical appliance per year.

Urgent repairs in less than 3 hours, with the technician's visit and 3 hours of labour costs for each repair included. In addition, you get two electrical handyman services per year (with changes of plugs, light fittings, etc.) lasting 2 hours each.

Free telephone. Note carefully: this is for 24 hours a day, and 365 days a year.

With a 50% discount during the first year: the cost of the service is just € 2,53 per month.
Endesa's One tariff is a new way of understanding your energy contract, where you will benefit from one price for all the energy you consume and one price for the power; you will be able to carry out all your processes online. You will always enjoy a competitive price and not only during the first year. We are offering you Endesa's best online price.
One is a 100% online tariff, which will enable you to carry out all your processes in an easy and simple manner, 24 hours per day, in the

"Customer Area"

section on the online office or by downloading our mobile application.
You can simply sign up for what you need, without having to subscribe to additional services but with the possibility of doing so if you wish.
There is no minimum commitment period.
You will receive an email indicating the date and the link via which you will be able to access your electronic bill as soon as it is available.
A simple, easy and cost-free way of contracting the service and without any supply interruptions.
This is a tariff for ALL customers, both new and existing customers.
You will enjoy Endesa's best online price.
You will be able to carry out all your processes entirely online.
No minimum commitment period.
The One Tariff is valid for supplies with 2.0DHA or 2.1DHA access tariffs. They are also called time restriction tariffs.
OKLuz Assist is Endesa's electrical repair and handyman service for your home.
Whenever you have a fault, you can contact the OKLuz Assist technical service and an emergency electrician will come to your home in less than 3 hours if the fault is urgent, or within a maximum of 48 business hours if the fault is not urgent - in both cases, the travel time and the first 3 hours of labour are free - OKLuz Assist customers have access to a free telephone support number, available 24 hours a day, 365 days a year: 900 85 86 85.
The number of electrical system repairs is unlimited. In addition, once a year, OK Luz Assist includes a repair on a electric hot-water heater, major electrical appliance (washer, dryer, refrigerator, freezer, dishwasher, cooker hood, oven, cooker or stove) and two 3-hour electrical handyman services: installation of electrical devices (lighting fixtures, wall and ceiling fittings, halogen lights in suspended plaster ceilings) and replacements (switches, wall sockets, buzzers, lights, bulbs, halogen lights, etc.).
The most common are those related with the electric panel, light switches and plugs.
If you do not have any electric light at home, or you have no power in the socket for the refrigerator, and not it's an power-cut on the part of the electricity distributor, an OKLuz Assist technician will visit your home in less than 3 hours.