How
to change your contracted power

Your bill is structured around two main elements:
The energy consumption: this is variable, but you can control it. It is different each month and the more kWh you consume, the more this part of your bill will increase.

The contracted power: this is a fixed cost that depends on your contracted kW. This amount will be identical every month, but you can decide to increase or decrease your contracted kW.
HOW DO YOU KNOW IF YOU NEED MORE OR LESS POWER?
A simple way of finding out is: if your fuses never blow, then there is probably margin to drop your power; if you keep blowing fuses, you have reached your limit.
In any event, you should think carefully before changing your power. We strongly recommend that you seek professional advice rather than trying homemade solutions. At Endesa we have a tool providing personalised advice.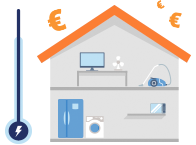 Contracting more power than you need:
Will increase your electric bill unnecessarily.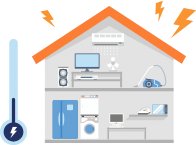 Contracting less power than you need:
Will cause you to experience supply interruptions that result in you having to increase the power, which will entail additional costs.
If in doubt, we recommend seeking advice an authorised installer, who will carry out a detailed assessment of all your requirements.
The following form includes the category "Advice" under the type of "Query" and the subject is "Questions regarding how much power I need".
THE COST OF CHANGING POWER
Your distribution company will charge you:
Around 11 euros for decreasing the power the process, no matter how much you decrease it.

Around 45 euros per kW of increased power.

Depending on your distribution company, they may also charge you for other processes or deposits.
Beware! The cheaper option could end up being more expensive. If you drop the power too much you could end up blowing your fuses as soon as you switch on your electrical appliances. You will have to increase the power again and pay much more than you may think. In addition, the distributor is only required to make a power change per year, there may be problems if you want to perform more.
In addition, you also have the cost of the certificate (50-200 euros).
What is the electrical installation certificate and how much does it cost?
This document certifies that your installation is in good working order. Your distribution company will need it in the following cases:
The last update was over 20 years ago.

The power you are requesting exceeds the amount stipulated in your certificate.

You are requesting a change of power for a new house that has never been occupied.

You live in the Canary Islands and you want to change your contracted power.
In order to obtain a new certificate, you will have to hire the services of an authorised technician: the cost varies considerably (50-200 euros), therefore we strongly recommend that you ask for various estimates. If you live in Catalonia, these expenses will increase if you are asked for another certificate (Blue Certificate).
Once you have your certificate, you can send it to us at cie@endesa.es (you have 30 days to send us the certificate from the moment you request the change of power).
HOW MUCH YOU SAVE BY DECREASING YOUR POWER
You will be able to see immediate changes on your energy bill by decreasing your power.
For an average household, it represents savings of around 5 euros per month and 60 euros per year for each power segment you decrease.
CHANGING YOUR POWER IN 5 STEPS
This is what you have to do in order to change your power with Endesa:
1. Access the Contract Section on your Customer Area (if you are not registered or logged in, you will need to do so first).
2. Click on your contract and the data will unfold.
3. Select "Change" in the "Power and Tension" section.

4. Choose the power you want and accept the Legal Terms of hiring.
5. Click on "Save changes".