False
Endesa invoice notices
We have detected a fraudulent campaign simulating Endesa notifications and inviting you to download the bill. Once the email has been opened, if you click on the link, you will be taken to a site containing malicious code ("a virus"), which blocks the personal files of computer users.
We have already warned our customers about this fraudulent campaign, which uses a supposed company bill as a decoy. If users download the content, all their personal files stored on their computer will be blocked and they will then be asked to pay a ransom to recover the files.
We are already carrying out the relevant actions to combat this software attack and we will keep you informed of any relevant updates in this regard.
Below is an example of these fake notifications: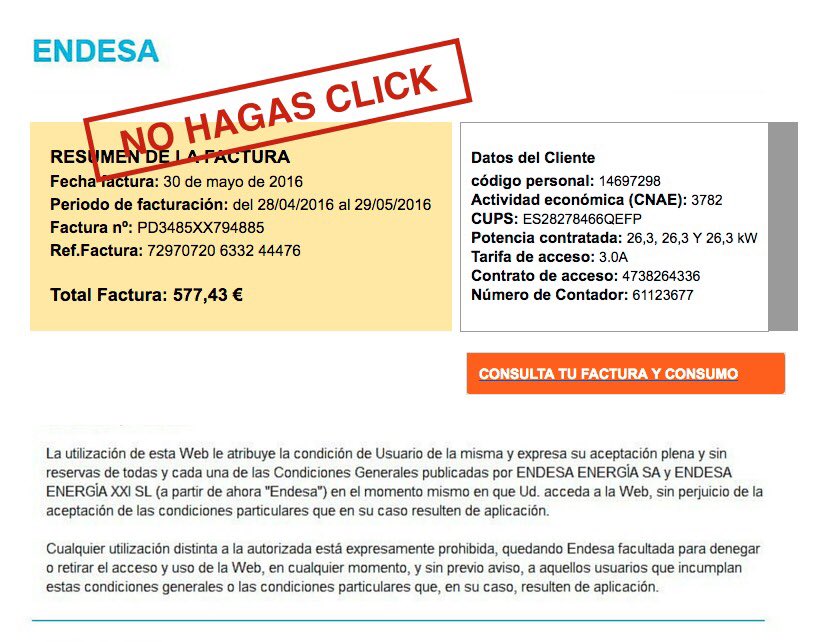 The Spanish National Cybersecurity Institute (INCIBE) is offering a service to help those affected by the fake Endesa bill virus.
In order to identify the type of virus and to verify whether the data can be recovered, the INCIBE recommends sending an email to incidencias@certsi.es and attaching two or three Word or Excel files (originally with a .doc or .xls extension) affected by the virus and which do not contain private or confidential information and larger than 1 MB. In addition, you will have to refer to the file that explains how to make the corresponding payment to recover the information.